Afternic Webinar – How to Maximize Revenue With Your Domain Portfolio
December 16, 2009 · Leave a Comment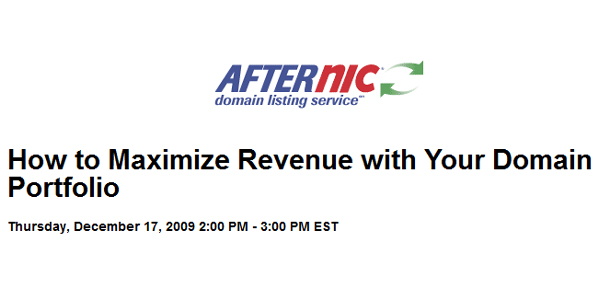 Afternic is offering another free webinar tomorrow December 17th, 2009 2:00 pm – 3:00 pm EST. This one is about monetizing your domain portfolio while your domains are listed for sale. These sessions are normally very informative for new users and even those who have been around the domain industry for some time. The details are below:
Did you know your unsold domain names can make money for you while you wait for bids?
Buying and selling domain names are only two pieces to maximizing your domain portfolio. SmartName.com, the sister site to Afternic, provides you with the industry's leading parking platform so your domain names produce revenue for you.
In this complimentary, live one-hour webinar, you'll learn:
* Why Afternic is the industry's leading one-stop destination for buying, monetizing, and selling domain names.
* Why listing your name with Afternic and parking it with SmartName will increase the chances of your name being sold by 225%.
* How to easily set-up your account and choose from SmartName's highly optimized, customizable templates.
* How to work with our optimization team to determine the layout that yields the best click-through rate.
* How to effortlessly earn ad payouts on your domain name landing pages.
You'll also have the chance to ask your questions in our Q&A session. So if you haven't signed up yet — do so now!
Space is limited, reserve your spot here