Footwear.com Announced For Sale Via Press Release
September 25, 2009 · Leave a Comment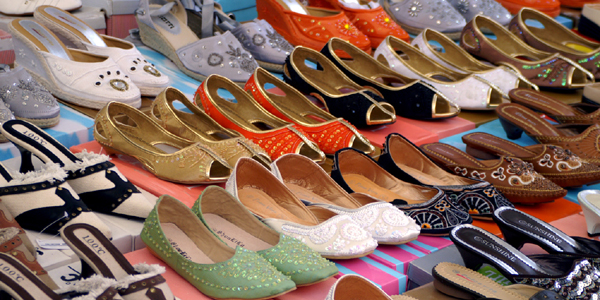 Brokerage firm Broadmoor Associates announced via press release that they are the exclusive broker for Footwear.com listed for sale at $3,000,000.
If you consider the success of Zappos.com clearly selling shoes online works. Additionally Zappos was acquired by Amazon earlier this year for more than $900m.
Footwear.com is solid product domain that is priced fairly, it is not a category killer like Candy.com that sold for the same amount that Footwear.com is looking to get, but that's only because there are more domains like shoes.com, boots.com, etc that could be used to sell footwear too.
Press release below:
Broadmoor Associates, a brokerage firm that specializes in premium domain names and established websites, announced today that it is the exclusive broker for the sale of the premium domain name footwear.com.
"Footwear.com has tremendous amounts of unrealized potential and presents a formidable opportunity to enhance a company or brand's position and presence on the internet by owning a premier digital sales channel to build and retain internet traffic, capture and engage customers early in the search process, and attract unique visitors from organic search engine results and direct navigation," said Jason Buchanan, managing director of Broadmoor Associates.
Top 10 Organic Search Rankings
Famous Footwear
Famous Footwear
Footwear Etc.
Wikipedia – Footwear
Keen Footwear
eS Footwear
Dick's Sporting Goods
Univ. of Tulsa
Earth Footwear
Fallen Footwear
Source: Google.com, retrieved on September 18, 2009
In August approximately five million search queries were performed in the United States for the keyword 'footwear' according to Google. Advertisers are currently paying an average price of $0.99 per click to have their text-based advertisements appear in the sponsored links column, alongside the organic search engine results and on Google's search and content networks.
Sample of Pay-per-Click Advertisers
    Kmart
    Zappos
    Converse
    Moschino
    Famous Footwear
    6pm.com
    Nordstrom
    Mango
    DSW
    Nike
    Shoebuy.com
    Shoes.com
Source: Google.com, retrieved on September 18, 2009
"In contrast to pay-per-click advertising, the new website would only need to attract one-percent of the monthly search volume to break-even over a five-year span, assuming ad rates and demand remain constant as the economy rebounds," Buchanan added. "In the long-run, as competition for internet traffic increases the domain name could provide a significant competitive advantage by leveraging rising advertising costs, effectively reducing expenses and dependence on third-parties. From a strategic perspective, each visitor the name attracts is one more the competition is going to have to acquire to remain competitive."
Two other premium domain names in the consumer sector that have sold this calendar year include toys.com and candy.com, which reportedly sold for approximately $3 and $5 million, respectively. As the exclusive broker, Broadmoor is offering footwear.com at $3 million.
About Broadmoor Associates
Founded in 2007, Seattle-based Broadmoor Associates is a premier digital brokerage firm and consultancy that provides clients with professional brokerage services for premium domain names and established websites, as well as consulting services which include acquisition consulting, strategic analysis, competitive intelligence, and personalized research. More information can be found online at http://www.broadmoorassociates.com/footwear.
    Media Contact:
    Lynda Buchanan
    Director of Sales
    +1 206 407-3178
    lynda.buchanan@broadmoorassociates.com