Google Now Showing Site Hierarchy In Search Results
November 18, 2009 · Leave a Comment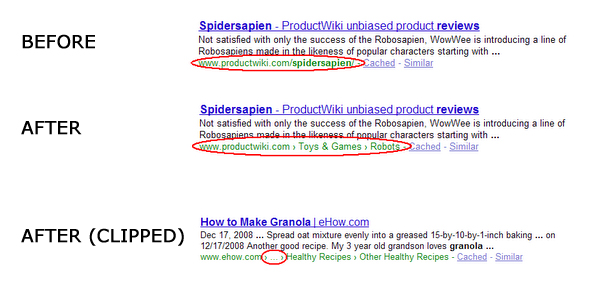 Google announced that they are now showing site hierarchy in search results instead of the actual URL. The image above outlines the changes to the search engine results page. When the site hierarchy is displayed those are additional links to the website too. The official word from Google is below:
The information in these new hierarchies come from analyzing destination web pages. For example, if you visit the ProductWiki Spidersapien page, you'll see a series of similar links at the top, "Home> Toys & Games> Robots." These are standard navigational tools used throughout the web called "breadcrumbs," which webmasters frequently show on their sites to help users navigate. By analyzing site breadcrumbs, we've been able to improve the search snippet for a small percentage of search results, and we hope to expand in the future.
Now it's even more important to structure your website with properly named breadcrumbs to achieve the best results in Google search.