Product Listing Ads From Google AdWords Expands For U.S. Users
November 12, 2009 · Leave a Comment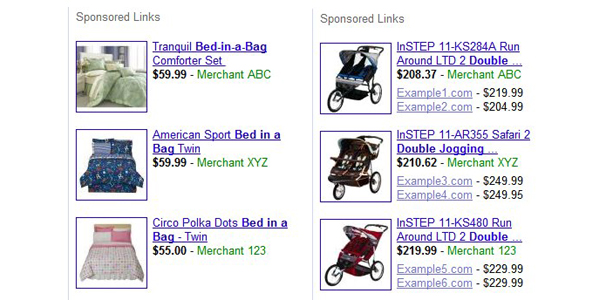 Google AdWords Blog has announced that their new Product Listings Ads product will be expanded to more U.S. users in search results.
They note that the key features for advertisers are:
Pay only for results: Product Listing Ads are charged on a cost-per-action (CPA) basis, which means that you only pay when a user clicks on your ad and completes a purchase on your site. Because Product Listing Ads is charged on a CPA basis, it offers a risk-free way for you to reach a larger audience on Google.com.
List your entire inventory: Product Listing Ads requires no keywords or additional ad text. Whenever a user enters a search query relevant to an item in your Google Merchant Center account, Google will automatically show the most relevant products along with the associated image, price and product name. Product Listing Ads makes it easy for you to promote your entire product inventory on Google.com.
Also check out where the advertisers domain is displayed, right next to the image. Replace Example6.com with BabyStrollers.com and that is a very enticing ad for a consumer to interact with.